What is a pipe robot? It is usually designed to rely on the friction of the tube wall to walk the electric vehicle, and carries a camera inside to view the situation in the tube or carries a simple tool to achieve plugging and other work. Generally wired remote control, relying on dragging cables to achieve power supply and transmission of information. The function of the pipeline monitoring camera is to probe the depth of the pipeline, observe the parts that can not be directly seen by the naked eye, and observe the interior in the sealed cavity, so as to provide a clear reference for the actual construction.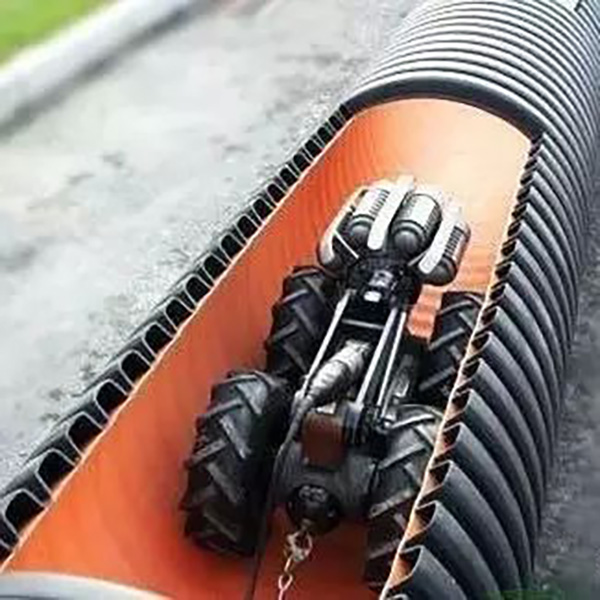 The pipeline crawling robot camera is used for pipeline detection video shooting, which is divided into: front camera, main light source, hemisphere, connecting head, auxiliary light source. The auxiliary light source provides sufficient light source for the lens, which is very suitable for working in the relatively dark environment such as the pipeline and the tank box. Use the push rod or spring cable to send the lens to the part that needs to be detected for video observation to determine the internal condition of the pipeline or the tank, tank, box, etc.
The camera movement should be small in size, light in weight, easy to design and install, according to the diameter of the pipeline, irradiation object distance, choose 10 times, 20 times or 30 times optical zoom camera, there are generally obstacles in the pipeline, when the pipeline robot can not bypass obstacles, affecting the shooting inspection. 20-30 times optical zoom camera can be selected to magnify and inspect distant shooting objects, and the camera should support the automatic exposure slow response function, which is very useful in the monitoring area where the lighting conditions suddenly change.
The selection of pipeline robot camera is very important, the camera is the core component of the entire detection system, Shenzhen XuanZhan Technology Co., Ltd. recommend to you SONY FCB series FCB-EV7100, this camera is small, light weight, is the ideal choice of pipeline robot camera module, For questions about how to choose the pipeline robot camera, please consult the technical engineer of Shenzhen Xuan Exhibition.