For SONY auto focus cameras, low illumination and wide motion are two very superior features. Especially in the security monitoring, medical equipment, Marine operations and other industries are particularly prominent, so what is the magic of these two functions, may wish to take a look.
1. Night vision color camera in low light environment
Low illumination is the ability of a camera to capture color images in low light or no lighting. The performance of SONY's low-light camera is highly dependent on its sensor sensitivity and DSP processing capabilities, followed by the formation of different combinations of variable aperture and shutter speed to obtain sharper images.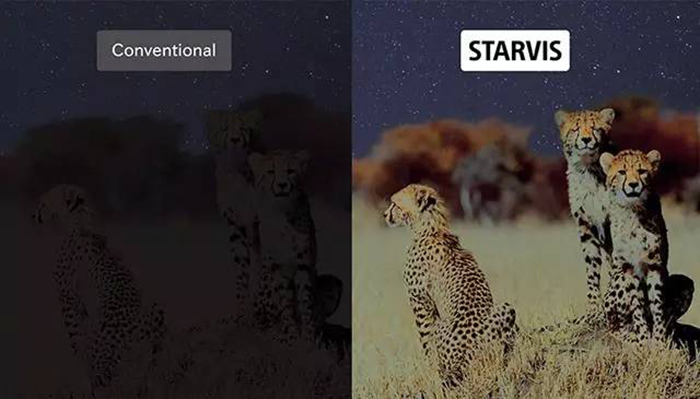 Autofocus camera low illumination
Iris night vision cameras are different in that they can control the amount of light transmitted through the lens and sensors to deliver the needed light source inside the camera. Through cooperation, adjust the light input of the surveillance camera. The new thermal imaging technology, as well as the high-resolution lens, helps improve the overall sensitivity of the camera, which will further improve the imaging effect of low-light cameras.
2. Improved camera performance in low light environment
When the ambient light turns dark, the SONY auto focus camera automatically switches to black and white. But as low-light cameras become more popular, they can not only provide night vision surveillance capture, but also distinguish colors. Suspects can be identified even at night.
The low illumination camera is also crucial in the setting link, and there are special requirements for lighting in different environments. At present, under normal lighting environment, the most commonly used low-illumination camera can display color images in 0.01Lux, SONY autofocus camera FCB-EW9500H, FCB-EV9500M, FCB-EV9500L and 2023 new product FCB-EV9520L, All can output color images under 0.01Lux low illumination.
FCB-EW9500H|FCB-EV9500M|FCB-EV9500L
3. WDR wide dynamic
SONY autofocus cameras have wide motion features from earlier models, which seems to have become an unwritten rule. Adding wide dynamics helps resolve missing image details in extreme lighting environments, such as large changes in indoor and outdoor light, resulting in the loss of part of the main image. Users must note that wide dynamic range is defined as the ratio of the brightest and darkest areas of an image, and this value will change in different environments, not an absolute value.
The most common form of wide motion for SONY autofocus cameras is the use of a multiple exposure method, which involves capturing two frames of images in a short period of time and a long exposure speed. The first exposure captures details in the bright areas of the scene, while the latter captures details in the dark areas of the scene. The two images are then combined to present both image details in both bright and dark areas at the same time.

SONY Auto focus camera wide dynamic
The most common wide dynamic range is between 50 and 70dB, while the advanced wide dynamic range is between 100 and 130dB. The most advanced wide dynamic range (also known as the third generation Wide Dynamic) is called "true WDR" and is best achieved by capturing four frames of images for comparison.
SONY auto focus camera FCB-EV9520L, which will be available in the summer of 2023, has a wide dynamic range of 130Db, which is already very impressive. Widely used in security monitoring, medical equipment, Marine operations and other fields of industry.