The full name of HDMI in English is "High Definition Multimedia Interface", which means high definition multimedia interface in Chinese. HDMI interface can provide up to 18Gbps data transmission bandwidth, can transmit uncompressed audio signals and high-resolution video signals. At the same time, there is no need to perform digital/analog or analog/digital conversion before signal transmission, which can ensure the highest quality audio and video signal transmission. The advantage of applying HDMI is that only one HDMI cable is needed to transmit audio and video signals at the same time, and higher audio and video transmission quality can be achieved.
SONY FCB HD CAMERA, 4K ultra HD CAMERA BLOCK often use the Talk about the HDMI Cable often used in the integrated movement module, through the Micro HDMI to LVDS, you can transmit the 1080P HD and 4K ultra HD video and audio signals of the camera module.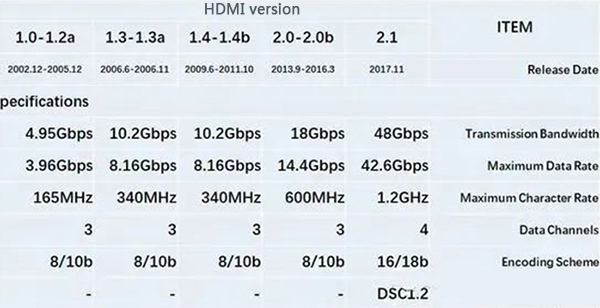 History of HDMI
HDMI interface was born as early as December 2002, when the version of 1.0, its biggest feature is the integration of audio streaming digital interface, compared with the PC interface is very popular DVI interface, HDMI 1.0 version supports video streaming from DVD to Blu-ray format, can form a common contact between all connected devices. More convenient control of equipment groups.
HDMI 1.0 to HDMI 2.0B It has gone through nine stages of history, HDMI 2.0 bandwidth expansion to 18Gbps, support plug and play and hot swap, support 3840×2160 resolution and 50FPS, 60FPS frame rate. It also supports up to 32 audio channels and a sampling rate of up to 1536kHz.
HDMI 2.0 does not define a new data cable and connector, interface, so it can maintain the perfect backward compatibility of HDMI 1.x, and the existing second class data cable can be used directly. HDMI 2.0 will not replace HDMI 1.x, but based on the latter enhancement, any device to support HDMI 2.0 must first ensure the basic support for HDMI 1.x.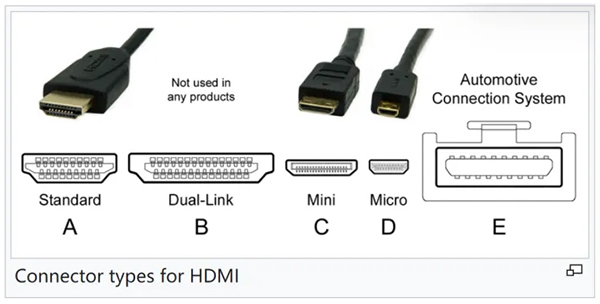 HDMI Cable interface type
HDMI Cable interface is divided into A, B, C, D,E 5 types.
Among them, Type A is the most common, and video equipment such as flat panel TVS or movement modules provide an interface of this size, Type A has 19 pins, A width of 13.9 mm, a thickness of 4.45 mm, and 99% of the devices you can see now are HDMI interfaces of this size.
Class B (Type B) is very rare, there are 29 pins, the width reaches 21 mm, the transmission bandwidth is almost double that of class A, it is completely too "strong" in home applications, and it is now only used in some professional occasions.
Class C (Type C) is for small devices, its size of 10.42×2.4 mm is nearly 1/3 smaller than Type A, the application range is very small.
Type D is the latest interface type, further reduced in size, using a double-row pin design, the size is similar to miniUSB interface, more suitable for portable and on-board devices.
Type E is mainly used in vehicle audio and video.
Due to the instability of the interior environment, the HDMI E Type is designed with shock resistance, moisture resistance, high strength resistance, large temperature range and other characteristics. In terms of physical structure, mechanical locking design is adopted to ensure contact reliability.
HDMI Cable interface type
Although the interface of the HDMI Cable is different, the function is the same, usually the quality of the HDMI interface, the plug life is not less than 5000 times, and the plug and plug can be used for 10 years every day, which should be very durable. In addition, it is worth mentioning that HDMI can be backward compatible with DVI interface, through HDMI-DVI adapter, you can connect some older DVI equipment, because DVI also uses TMDS mode, after the device is connected, It will be found that DVI equipment does not have CEC (consumer electronics control) function, and can not accept audio signals, but basically does not affect the transmission of video signals (there may be a need to adjust the gray level), so some only DVI interface displays can also be connected to HDMI devices.
The advantages of dedicated HDMI
Xuan Zhan Technology special FPV UAV HD HDMI wiring harness has the characteristics of thin, small, soft and so on.
This kind of wire harness is compact in design, thin in diameter and small in size, which can easily pass through the body of the drone or other small Spaces.
At the same time, the wiring harness material is soft, has a certain flexibility, can be easily installed and wired, will not cause inconvenience to the flight of the drone.
In addition, the harness supports high-definition HDMI signal transmission, which can provide clear and stable video transmission effect, so that users can watch the high-definition picture taken by the drone in real time.
In general, the HD HDMI wiring harness of the special FPV UAV has the characteristics of small and soft, which can meet the needs of users for high-definition video transmission, while not affecting the flight performance of the UAV.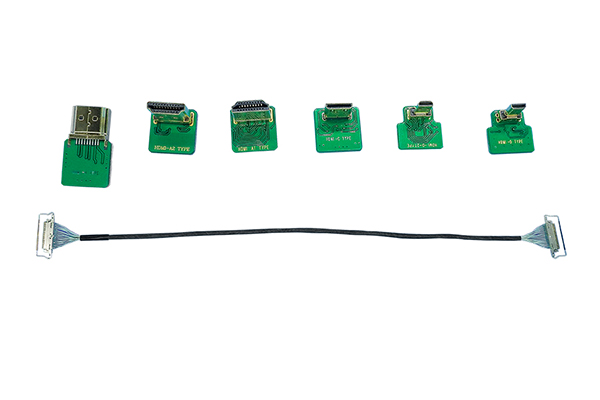 Xuan Zhan Technology HDMI coaxial line